Seasonal Produce Calendar
Seasonal produce calendar
What's IN SEASON at the Markets?
Wonder what you'll be eating on your holiday? Have a look at our local produce calendar which tells you what fruits and veggies will be in abundance during your visit. A combination of our fertile volcanic soils, and Vanuatu weather ensures that produce is available year round and in abundance and eating according to the season not only benefits your health, but it helps local Vanuatu farmers build a sustainable food industry.
During your time in Vanuatu, ensure you pay a visit to the local markets, which are located in Port Vila, on Espiritu Santo and right through the country.
Our fruits and vegetables are all fresh and organic, so you know that you're only getting the tastiest, healthiest produce. Here's what to expect in the markets:
JANUARY – MAY
Fruit – perfect for preserving and are delicious desserts, such as limes, mandarins, oranges, passionfruit, wild raspberries, watermelons and pineapple
Vegetable – typically what's in season is delicious for roasting and cooking up warm soups, such as cabbage, pumpkin, shallots, potato, carrots, onions and corn
Local nuts – Pinnate, Navele, Nangai.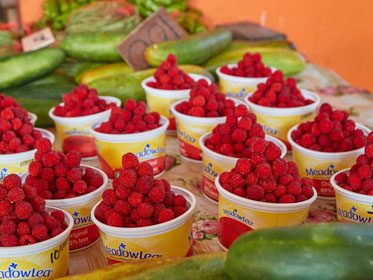 JUNE – AUGUST
Fruits:  These cooler months mean mildly citric-scented Port Vila market house filled with grapefruits, lemons, limes, mandarins, oranges and guavas. You'll also find butterfruit and avocado
Vegetables: All legume crops in full bloom perfect for green salads: Cabbage, Lettuce in all sizes and colors, Green Beans, Carrots, Raddish, Garlic, Ginger, Onions, Potato, Sweet Pumpkin.
Local Nuts : Green Peanuts.